PROFESSIONAL, EXPERIENCED, RELIABLE DOOR REPAIR
IN TORONTO AND THE GTA
Quick, affordable door repair service on every type of door in Toronto. Any time. Any day.
Call us now at (647) 417-0255, and we can be there in less than half an hour.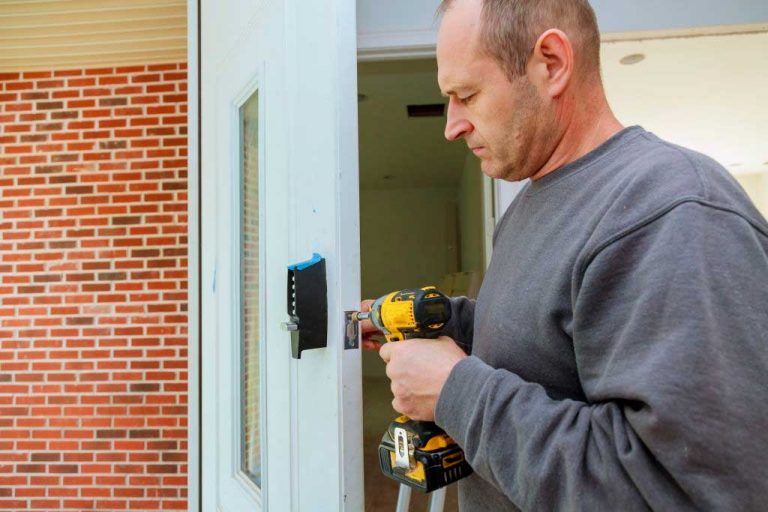 What We Do
Door Helper specializes in all types of door repair services like:
door hinge repairs;
weather stripping repairs;
door frame repairs;
lock repairs;
residential and commercial door repairs;
door installations and replacement;
wood or metal door frame repair.
For nearly a decade, Door Helper has worked to reduce the risk of door-related accidents and break-ins in Toronto and the GTA. Our repair technicians stay on-site until all repair work is completed and your property is safely secured.
Emergency services are available all the time, day, and night.
Advantages
24/7 Service
Unlike many of our competitors, we work 24/7, including weekends and holidays, and are always in touch in case something happens with your door. You can be sure that Door Helper emergency service will help you.
Great Experience
We have been on the market since 2009 and for 11 years we have put together a team. Our employees are polite, always answer questions, arrive on time and perform their work efficiently.
Wide Area
We handle all of our clients' needs in Toronto and all the GTA, including Brampton, Brantford, Hamilton, Mississauga, Oakville, Richmond Hill, Vaughan.
Fast Response
Our experts will come to you on the day when it is most convenient for you, and in case of an emergency situation, within a few hours, depending on your place of residence.
Trusted work
The list of our services includes not only door repair for individuals, we also work with commercial organizations, for example, with shops and private entrepreneurs.
Guarantee service
We provide a guarantee for our services, for the work of our specialist, as well as for the materials that we use. We do not avoid responsibility for our work.
Door Helper Solutions
Exterior doors provide more than security. Doors make a huge impression about the value of your home or commercial enterprise. Periodic maintenance and repair is necessary for doors, just like other "moving parts." Although everyone has doors, few of us really have occasion to think about the service these hard-working doors provide. Doors break down. And they wear out. So, it's important to make sure your doors work efficiently. Check your doors to see:
Is the bottom of the door dragging on the floor?
Does the lock sometimes jam? Or is it hard to open or close?
Have you had a break-in?
Is the door frame loose? Coming away from the wall?
Are you doing renovations and need a new, modern style door?
Door Helper is here to help!
Call now on our 24-hour service line.
Call (647) 417-0255 NOW!
Popular Questions
Do you work around the clock?
Yes, we work 24/7 and offer emergency service.
Do you offer emergency door repair?
Yes, we have an emergency door repair. At any time of the day or night, when you need our help, you can count on us. Contact us and your problems will be resolved.
Do you provide commercial door service in my area?
We cover a very large area and have several branches. We work in Toronto and in the suburbs of Toronto, in cities such as Brampton, Brantford, Hamilton, Mississauga, Oakville, Richmond Hill, Vaughan and all the Greater Toronto Area
Do you provide free estimates?
Of course. We provide free estimates for door repair service to all of our customers and prospects. After a phone call, we can discuss your project with you at your home or office and provide an estimate of the visit. Our estimates includes a proposal at no cost and with no obligation. The price of our services depends on door size, material, intended use and other parameters.
How qualified and trained are your technicians?
Our technicians are always full-time employees - not subcontractors. They are professionally trained by the best in the industry and can repair or service any door system.
What are some of the common sliding door problems?
You may encounter a number of problems with sliding doors, especially if your door is knocked out, old or out of service. One of the most common problems with sliding doors is dirt that gets stuck on the track and builds up. Another common problem with sliding doors is standard wheels and ball bearings, which can quickly become corrosive, and this leads to problems. Call us if you have similar troubles.