Both your door frames, door hinges, and lock mechanisms should be checked regularly to be sure safety is maintained and that the door continues to operate effectively and efficiently. Regular checks and repair can save you a lot of money and extend the life of your door while giving you the peace of mind by eliminating emergency door issues such as unforeseen lock system failures.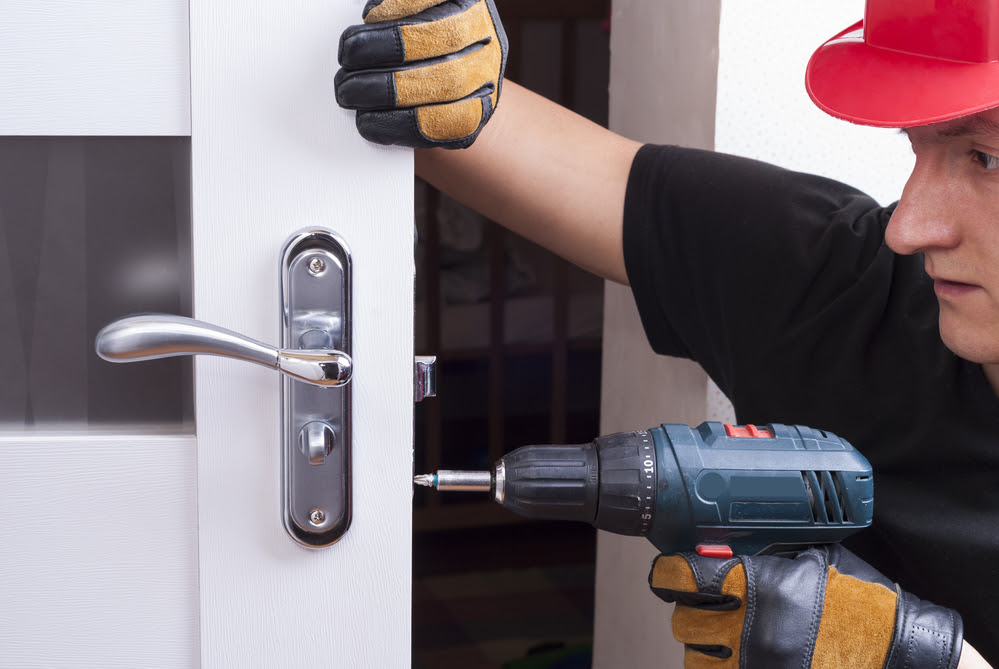 Door Helper specializes in the repair and maintenance of all types of doors and lock mechanisms. Our team of experts is experienced and skilled in safe and quick repair and service of doors irrespective of make or model. If you have an emergency door issue, our team will not only fix the problem but will also service your entire door to improve its performance and longevity.
Our service and repair checklist includes tightening and inspecting all door hardware, lubricating all moving parts such as rollers and hinges, check cables and springs for any wear or fraying and repair lock systems. Call us today for a wonderful, quality, and professional door repair experience today.
Our Door Repair Services
Have you suffered from door break-ins, loose hinges, broken glass, blocked rollers, and roller tracks, broken door handles, or damaged locks? Do not panic. We have a well-structured emergency response system. We will handle all your emergency repair requirements within the shortest time possible. If we cannot clear the repair within one day, we will make sure your home or business property is completely secured as we finish the repair. Where a repair is not the best option for your door or door frame, we will recommend and do a replacement with quality materials. Call us today, and we will give you the best customer experience you deserve.
We are proud to offer our customers door repair and replacement for over 10 years. Also, we can offer door repair in Grimsby, door repair services in Guelph, Halton Hills door repair. Here you can find our full range of door repair services from our company.
Emergency Door Repair Georgina
Why should you choose us for your emergency door repair in Toronto and in Georgina? You want a company that provides a 24-hour emergency door repair services all day in 7 days a week. We respond very fast to emergency calls and will be at your doorstep within 30 minutes from call time. Our technicians will conduct an assessment of damages and provide solutions on the spot. We have everything you need to repair the door, we service all types of doors, provide one year warranty on all hardware, and provide free estimates all the time. Call us today for all your door repair needs.

Advantages
24/7 Service
Unlike many of our competitors, we work 24/7, including weekends and holidays, and are always in touch in case something happens with your door. You can be sure that Door Helper emergency service will help you.
Great Experience
We have been on the market since 2009 and for 11 years we have put together a team. Our employees are polite, always answer questions, arrive on time and perform their work efficiently.
Wide Area
We handle all of our clients' needs in Toronto and all the GTA, including Brampton, Brantford, Hamilton, Mississauga, Oakville, Richmond Hill, Vaughan.
Fast Response
Our experts will come to you on the day when it is most convenient for you, and in case of an emergency situation, within a few hours, depending on your place of residence.
Trusted work
The list of our services includes not only door repair for individuals, we also work with commercial organizations, for example, with shops and private entrepreneurs.
Guarantee service
We provide a guarantee for our services, for the work of our specialist, as well as for the materials that we use. We do not avoid responsibility for our work.
Residential Door Repair Georgina
Has your home been vandalized, broken into, or you had your door kicked in by the police or robbers? Call residential door repair Georgina today. Our repair services include garage door repair, screen patio door repair, sliding patio door repair, glass door repair, wood or steel door repair, door frame repair, and repair on all front and interior doors in your home. A residential door repair company in Georgina, we have been in service for many years now. Any time you need a door repair technician, we will be glad to work with you. Our specialists also work on weekends and will respond to your calls any time to make sure entry to your premises remain secure.
Commercial Door Repair Georgina
Whenever your commercial door breaks, what comes first to mind is how to repair it. We offer commercial door repair services in Georgina. Over the years, we have ensured that we have the most committed and experienced professionals who will help fix your commercial door within the agreed time. Bearing in mind how essential security of your retail store is, we have availed emergency services that ensure that you are covered round the clock. Our door technicians will also advise on security features to be included on your door. We have also insured our services to shield you from damages that might be occasioned by the repairs. Contact us today for the best experience.

Interior and Exterior Door Repair Georgina
Georgina has suffered in the hands of interior and exterior door repair scammers in the recent past. However, you have us as an alternative to such eventualities. For two decades, we have sharpened our skills in ensuring that the integrity of both your exterior and interior doors is observed. Usually, exterior doors are relied on for security purposes. For this reason, we have emergency services available to address such problems round the clock. The interior doors are essential for privacy. We are skilled in repairing bedroom doors and bathroom doors. To ensure that you don't incur losses during the repairs, we have insured all our services. Call us today for the best outcomes.
Choosing Our Door Repair Service
There are several factors to look out for in a door repair company. Over the years, there have been reported cases of scammers. However, a competent door repair company must have a physical address.
Depending on the town, it should be licensed to carry out the services. It would be best if you also looked out at the experience of both the company and the technicians. More extensive expertise indicates competence in addressing all issues that could be arising. Such a company should also incorporate the services of a locksmith to help in ensuring that the integrity of the locks is enhanced. The company should also be insured just in case there is damage resulting from the repair.
Popular Questions
Do you work around the clock?
Yes, we work 24/7 and offer emergency service.
Do you offer emergency door repair?
Yes, we have an emergency door repair. At any time of the day or night, when you need our help, you can count on us. Contact us and your problems will be resolved.
Do you provide commercial door service in my area?
We cover a very large area and have several branches. We work in Toronto and in the suburbs of Toronto, in cities such as Brampton, Brantford, Hamilton, Mississauga, Oakville, Richmond Hill, Vaughan and all the Greater Toronto Area
Do you provide free estimates?
Of course. We provide free estimates for door repair service to all of our customers and prospects. After a phone call, we can discuss your project with you at your home or office and provide an estimate of the visit. Our estimates includes a proposal at no cost and with no obligation. The price of our services depends on door size, material, intended use and other parameters.
How qualified and trained are your technicians?
Our technicians are always full-time employees - not subcontractors. They are professionally trained by the best in the industry and can repair or service any door system.
What are some of the common sliding door problems?
You may encounter a number of problems with sliding doors, especially if your door is knocked out, old or out of service. One of the most common problems with sliding doors is dirt that gets stuck on the track and builds up. Another common problem with sliding doors is standard wheels and ball bearings, which can quickly become corrosive, and this leads to problems. Call us if you have similar troubles.