Nothing compares to snuggling on your sofa inside a warm house on a cold winter morning over the weekend or on your day off. Unfortunately, cold air tends to sneak in and ruin this moment for most people.
The cold makes the room occupants uncomfortable and lowers a household's energy efficiency, thus increasing the heating costs. On the upside, you can fix faulty doors and windows quickly and effortlessly to stop drafts from entering your house. Please continue reading to find out how to stop drafts from entering doors & windows.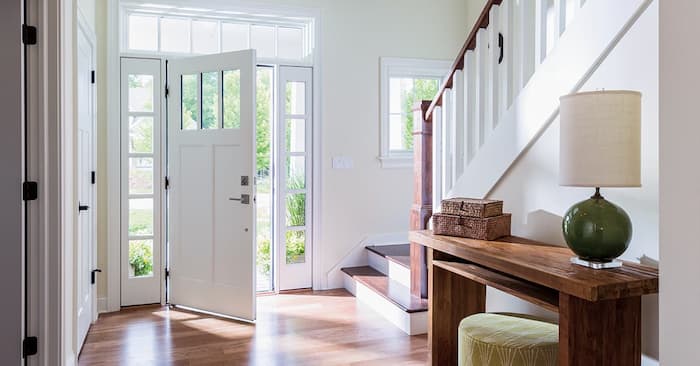 Tools, Materials, and Safety Equipment Required
One needs to have the right tools, materials, and safety equipment to correctly draft-proof their house. Here's a list of the essential things:
Caulk

Pair of scissors

Measuring tape

Piece of heavy cloth or curtains

Adhesive strips

Draught stoppers, i.e. door snakes and sweeps

Ladder and safety harness

Safety gloves and hat
Simple Fixes For Doors & Windows To Stop Draughts
In most houses, doors and windows allow drafts to enter a home. There are various ways you can stop drafts from entering doors and windows. While some of these solutions are adequate on their own, others need to be paired to work efficiently. Here's how to stop drafts from entering doors without breaking the bank:
Apply Weatherstripping
This is a fast, inexpensive, and effective way of stopping drafts. Use long pieces of the adhesive stripping to seal any crack or space around the window or door. Use the scissors to trim the stripping so that it fits perfectly.
The main types of weatherstrips are:
Foam.

These come in different sizes and have adhesive glue on both sides, making them easy for you to install. Unfortunately, this type is also the quickest to wear off, lasting only a few years.

 

V-type

. When fitted against door or window jams, these make excellent seals, arresting cold air before it enters the houses.

Compression

. Lastly, these are the most sturdy of the three types and last longer. They're better suited for swinging doors and window sashes.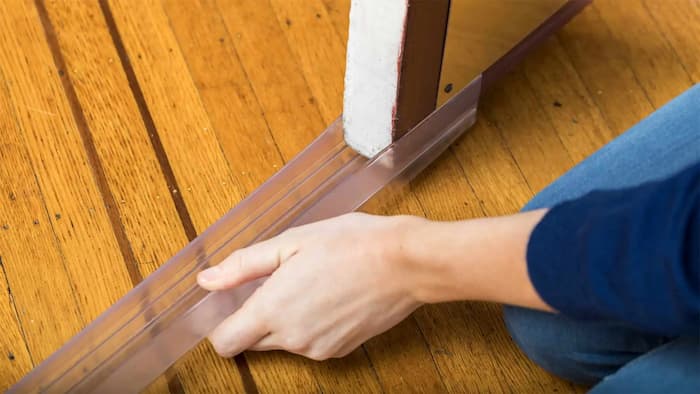 Hang Heavy Curtains or Chunky Blinds
If you're wondering how to fix drafty windows, we suggest you leverage heavy window dressings such as thick drapes and solid blinds. Consider layering the treatments for better insulation.
These solutions need to be closed to work but note that they're not practically foolproof. Buying those with a thermal lining would go a long way in stopping a large percentage of the drafts.
Caulk Application
With the help of a caulking pistol, fill the gaps between window or door frames and walls with caulk. Afterwards, use your hands to squeeze and thumb down the caulk against the surface and smoothen it. Ensure that your fingers are wet to keep the caulk from sticking to your thumbs or palms.
The caulk causes the door or window to get temporarily stuck to the frame. You'll have to peel off the caulk when you want to open the door or window after the cold season is over.
Install Door Sweeps or Snakes
Drafts freely enter houses via the bottom edge of a door. The sweeps and snakes on doors are usually placed underneath the door. These prevent cold air from finding its way inside the house when installed properly. To be sure that they fit well, measure the length of the door when it is closed and cut the door stopper to the desired size.
If you don't want to buy draft stoppers, make yours by rolling up a t-shirt or towel and placing it at the bottom of the door. You can learn more about how to fix drafty doors using old pieces of cloth online.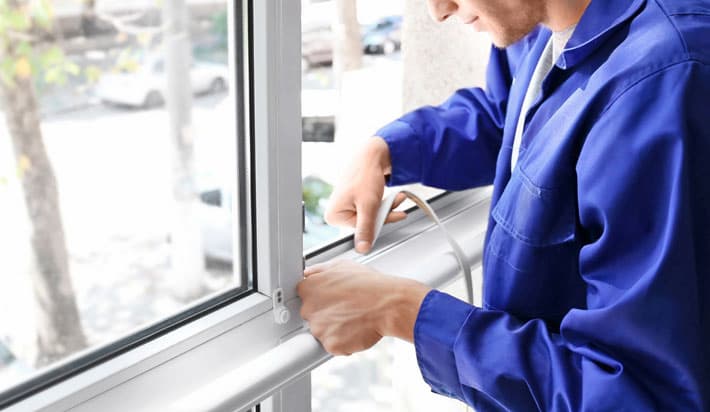 Remove Aged Doors & Windows
While the above solutions are easy and temporary fixes, you should consider a more permanent solution like replacing faulty doors or windows. This is the ultimate solution for those who are looking for ways on how to stop drafts from entering windows.
Older doors and windows allow drafts to enter regardless of the season. These are usually accompanied by visible damage to the existing frames and panes. The most permanent solution would be to get new doors and windows to eliminate this and save on your heating and cooling costs.
Check that the door or window is at a level close to the bottom so that no cold air passes below it.
Conclusion
It's very easy to seal spaces and gaps around doors and windows that allow cold air to get in. Stopping these drafts will keep the inside of your house warm and cosy. If you feel that all this work is too much for you, Door Helper has your back. Reach us through (647) 417-0255 for a quote, schedule an appointment, or ask any questions you might have. We're experienced in keeping cold air out of our clients' homes. We'll help you retain heat inside and protect you from the strong winter cold.